Shipping
Product shipping classes are an excellent method to send identical items together. It helps to manage the challenges of selling a range of product categories at the same time. As an illustration, if your shop offers a few particularly large, bulky products, you might wish to place them in their own shipping class with a separate delivery fee.
You can specify distinct delivery prices for things by grouping these products in a manner akin to post or product categories. You may utilize shipping classes to figure out the rates of MartVill shipping options like Flat Rate Local Pickup and Free Shipping.
A very helpful feature of MartVill is the ability to assign different shipping criteria to different items using shipping classes. The following are some instances of shipping classes in MartVill:
Heavy items: If you sell furniture, certain products like a couch or chair can come with an additional delivery fee.

Lightweight items: On the other hand, certain things could fit in an envelope and not need a box, allowing for a special shipping class and less expensive postage.

fragile items: Pottery is one example of a product that could be fragile and require bubble wrap and an extra-large box to be sent safely

specific packaging: Items that require specific containment, like poster tubes. Some artwork or posters you sell might have to be shipped in a poster tube.
Uses of Shipping Class
some uses of adding shipping class to your MartVill include –
Varied product categories can be managed with ease.

Different approaches in shipping can be used for a range of products, especially helpful in
cases where the nature or size of the product can vary.
Delivery prices can be specified based on the product groups or categories.
Setting Up Shipping Class
Shipping class settings may be accessed as follows –
MartVill Dashboard > Configuration > Shipping > Classes.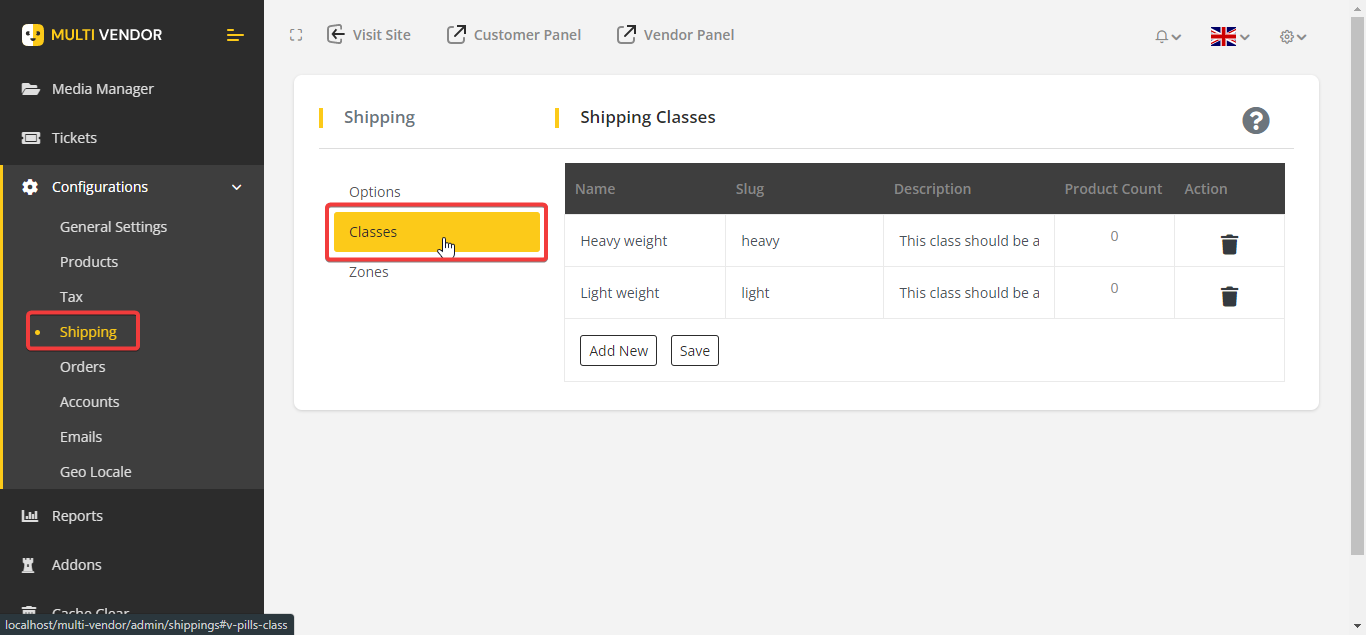 Here you will find a list of all your current shipping classifications. Click Add New to create a new shipping class.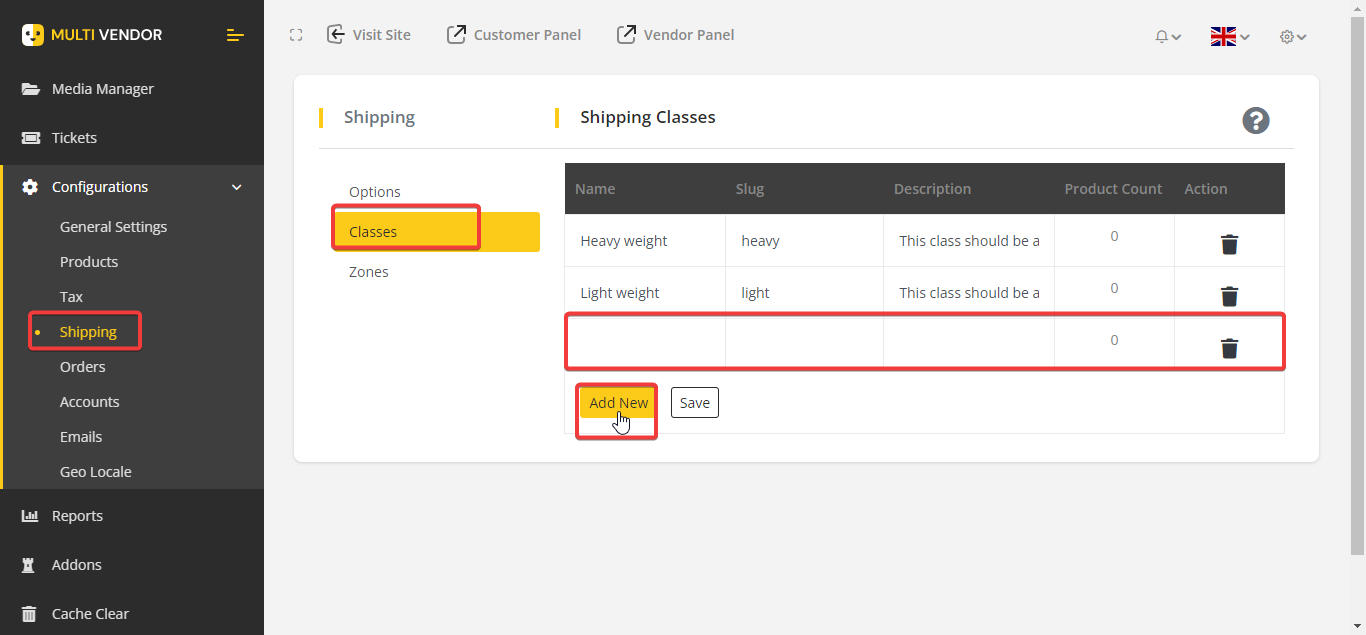 Four fields and a column for Product Count are editable when you click the Add New button, as follows:
Shipping Class Name – As the name suggests, this allows you to set a name for your shipping class.

Slug – MartVill uses your shipping class name as its default slug by default, but you may set an alternative name here.

Description – You can add this content for your own reference.

Product Count – This shows how many items have been added to this shipping class. When you attach a product to this shipping class, it will appear here.
You may change the information for the new shipping class in a new row that appears.
Editing Shipping Classes
You may select the class you wish to change by going to the list of shipping classes and moving the pointer over it.

You can edit shipping class name, slug or description to click on it. After that you need to click save button
Adding Products to a Shipping Class
You can add items to these shipping classes once you've finished generating all the necessary shipping classes.
From the admin dashboard on the left side of your screen, you may access the product settings. Click Edit after moving the cursor over the product you wish to change.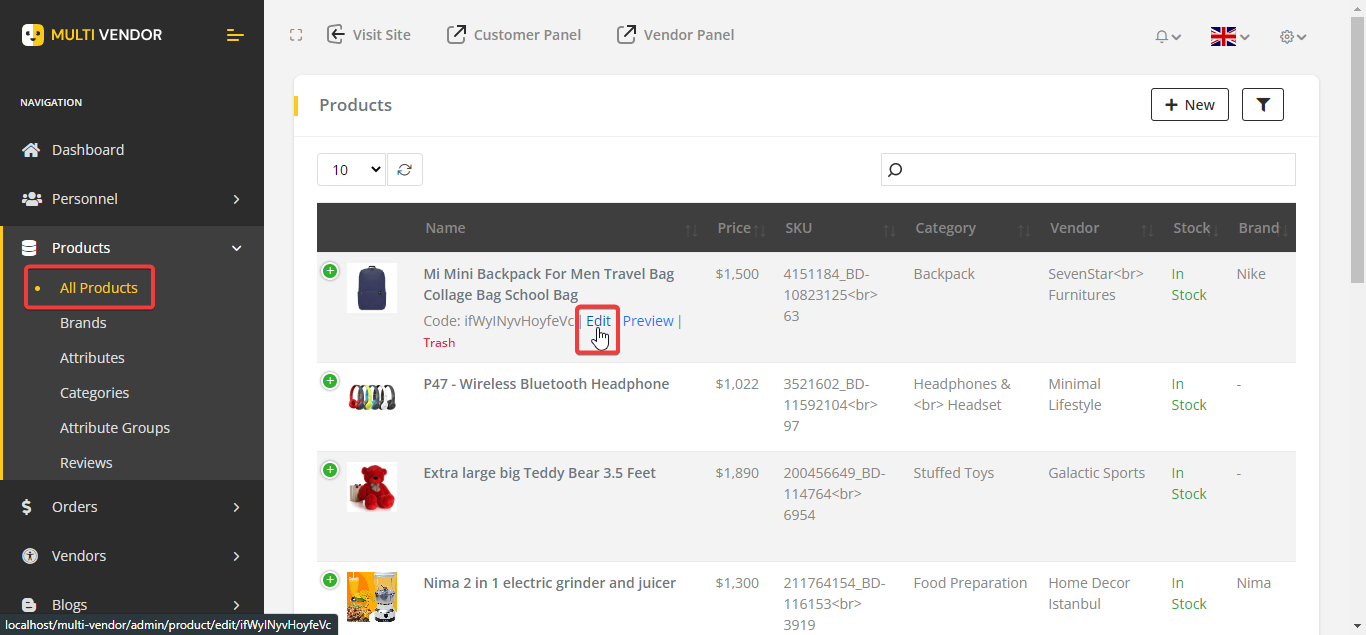 A page for the product will appear. Click Shipping on the left side of the Product Data metabox after scrolling down.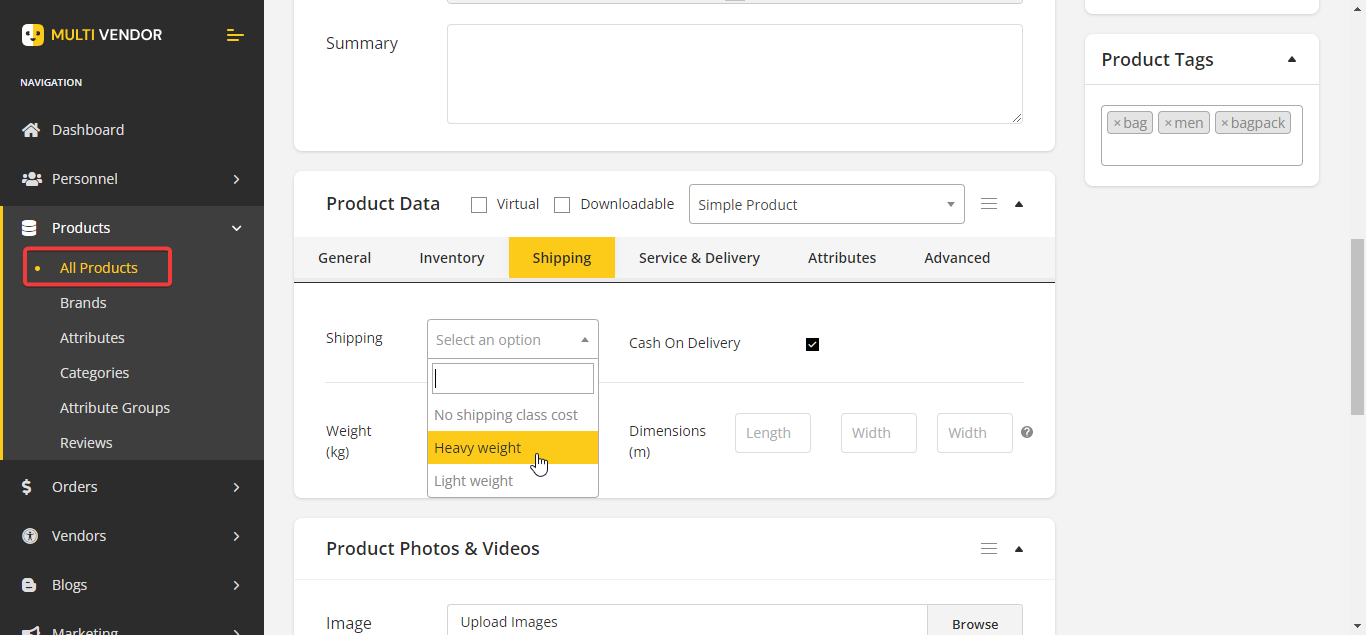 The Shipping class drop-down field is visible. Choose the shipping class for the package that the product will be included in.
Demonstration
For the sake of demonstration, we have set up a new shipping class called "specific packaging".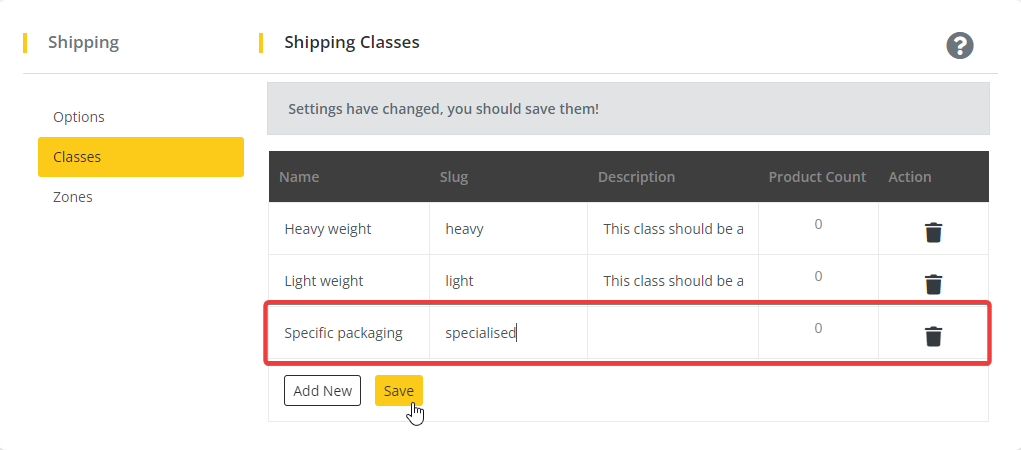 After the shipping class has been set, go to Zones > Shipping Methods and click on flat rate, now you can set the cost for the new shipping class you created. We have set the price of the shipping class to $10 and the flat rate charge to $10.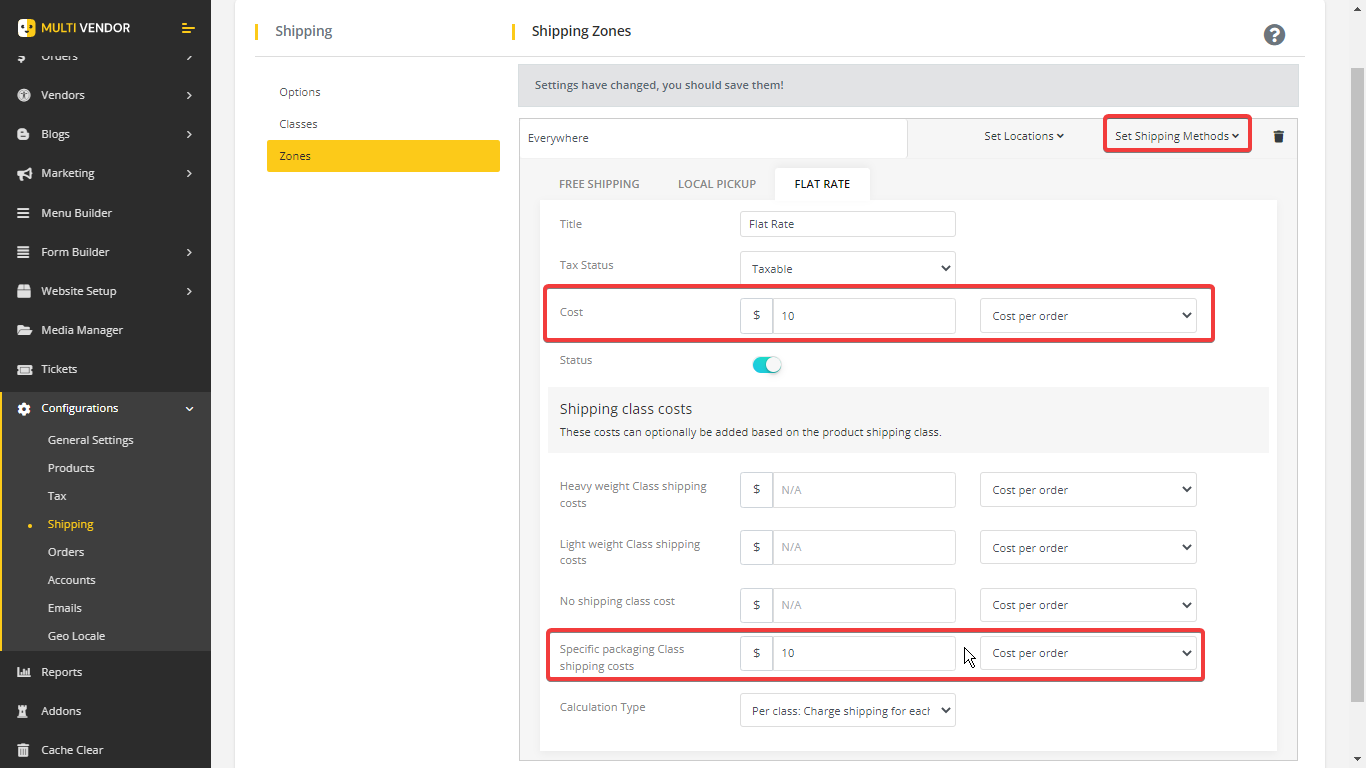 Now, let's go ahead and associate this shipping class with a product. In our case, the product will be a bag.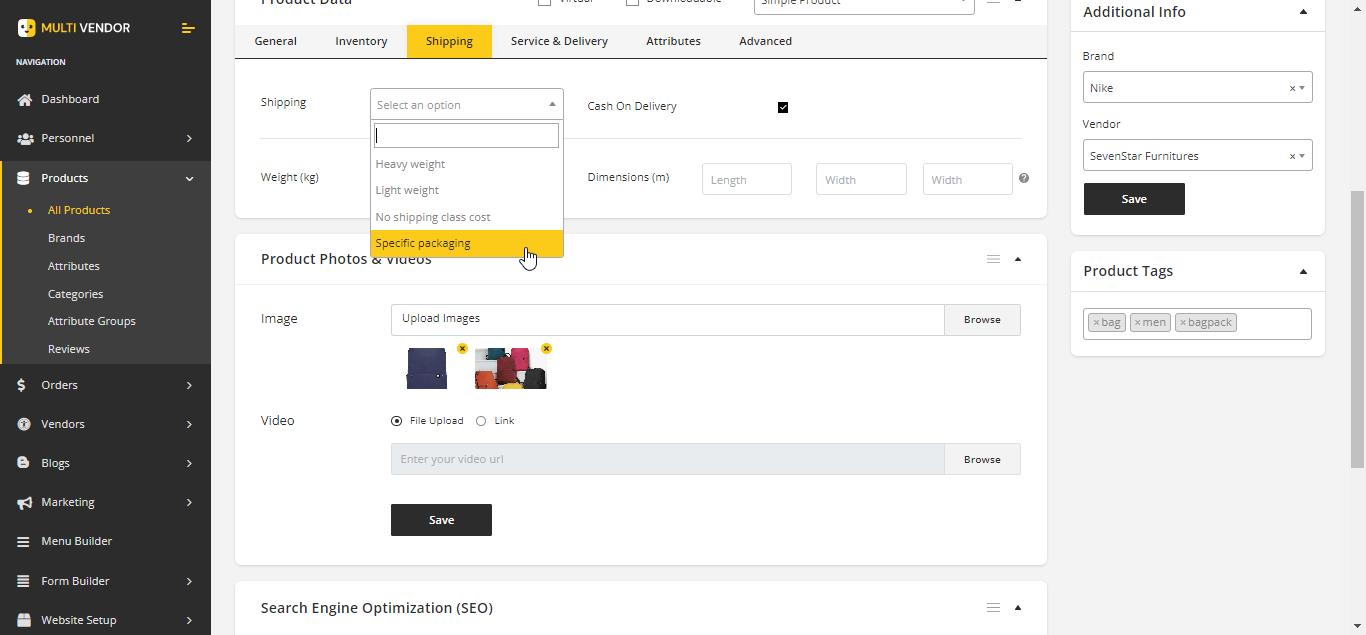 Below, you can see the screenshot of the frontend view.